Thousands of migrants fleeing ethnic persecution in Myanmar and poverty in Bangladesh have taken to the Andaman Sea, west of Thailand and Malaysia, in a desperate search for someone to take them in. Some 8,000 have been abandoned in the last month alone by smugglers who offered passage and a better future. Their plight, coupled with grim tales of abuse emerging from makeshift camps in the jungles of Thailand and Malaysia, paint a horrific picture of a regionwide network of human trafficking.
The roots of the catastrophe lie in the policies of the region's governments, which must now take responsibility for the crisis they have created.
Myanmar is by far the worst offender. Systematic persecution has driven 140,000 Rohingya Muslims from their homes, making them easy prey for traffickers who lure them with promises of safety and jobs in Malaysia, for a price, or simply kidnap them with a view to selling them into slavery or extorting ransom from their families. Myanmar refuses to grant the Rohingya citizenship or other rights. Last week, President Thein Sein signed a new law restricting the right of Rohingya women to have children. The plight of the Rohingya has reached a pre-genocidal stage, according to an alarming report released earlier this month by the Simon-Skjodt Center for the Prevention of Genocide.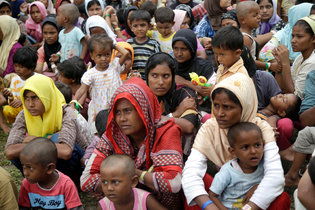 Members of the Rohingya ethnic group at a shelter in Bayeun, Indonesia.
---
Bangladesh, Thailand, Indonesia and Malaysia also bear responsibility. Their governments — now finally moving against traffickers — turned a blind eye to the problem for too long, unwilling to tackle a system that enriched government officials and provided a source of dirt-cheap labor. They remain in denial about the desperation pushing people into the traffickers' net; last Sunday, Prime Minister Sheikh Hasina of Bangladesh expressed her contempt for victims from her country, calling them "mentally sick" and warning they would be punished upon their return home.
In a positive step, Indonesia and Malaysia agreed last week to temporarily shelter trafficking victims who make it ashore — as about 3,500 have since May 10. But, they did so on the condition these people be resettled elsewhere within a year. Many have no home to which to return, and few other countries are willing to take them.
On Monday, Malaysian authorities announced the discovery of another smugglers' camp just across the border from the one found in Thailand on May 1. The camp had watchtowers, crude cages of sticks and barbed wire, and nearly 140 graves.
Some 2,500 trafficking victims are believed to still be drifting at sea. Indonesia and Malaysia have started marine search and rescue operations, and the United States is assisting. The next priority is providing for the rescued. Those who can be repatriated to Bangladesh must not face punishment upon their return home. More countries need to follow America's example and offer to take in Rohingya refugees who face persecution at home. Indonesia, Malaysia, Thailand and Bangladesh have to continue dismantling the network of smugglers' camps and arrest and punish those who have participated in this gruesome human trade.
Meanwhile, the United States, the European Union, the United Nations – which have all condemned Myanmar's treatment of the Rohingya – must make it clear that Myanmar will face consequences if it does not grant the Rohingya full rights, including citizenship, allow them to return safely to their homes and provide them with a future in the nation of their birth.
###
Source: New York Times